Dear Utah Jazz,
Please do not sign Gordon Hayward back to your team. He is done with you. Gordon wants a new home in the Queen City. The guy has already agreed to sign with the Hornets for a max contract, so now it is all up to you to decide if you want him back or not.
Sure, you had some good times with Gordon. Who could forget your last place finish in the Northwest Division for the 13′-14′ campaign? That time Gordon led the team in scoring with 16.2 points per game was awesome. He sure seems to fit well over there in Salt Lake City.
He fits so well that you drafted two shooting guards in the illustrious draft this year. I'm sure Dante Exum and Rodney Hood will love warming the bench, slowing their potential and development for a player that has had a few years to come into his own. Let him go. Let him go. Let Gordon Hayward go. Take a page from Frozen, which I'm sure you relate to heavily out there in the "frozen" tundra of Utah.
Jazz, I think its time I say this outright. It is time to rebuild- again. The days of Deron Williams and Carlos Boozer are long gone. It is time to let Dante Exum, Trey Burke, and Enes Kanter take over this team. They are honestly a strong core of young players to begin with. Letting Gordon Hayward slip, won't do much of anything for you guys.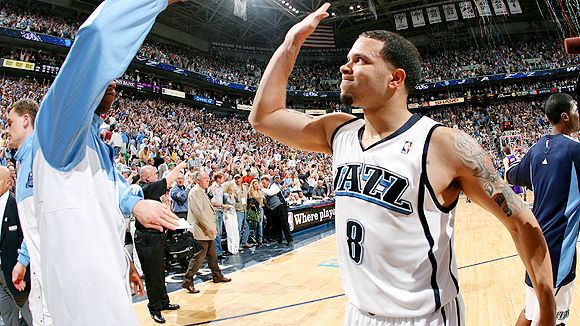 Gordon wants to buzz. Let the man fly free. He wants to grace the land of the honeycomb court. Gordon wants to play alongside one of your great ex-players who truly flourished for us last season, Al Jefferson. He wants to be the starting shooting guard on an upcoming team in the Eastern Conference.
Lucky for you Jazz fans, you are in the Western Conference. Last season, the Phoenix Suns didn't even make the playoffs and they were 14 games over .500. Over here in the Eastern Conference, the Hawks made the playoffs with a record that was 6 games under .500; the same Hawks team that was led by former ex-Jazz big man Paul Millsap. What a difference a trip across the country can make.
Last season, the Bobcats made the playoffs and played a competitive series against the Miami Heat, but were swept in 4 games. Still, we kept our heads high because we doubled our wins from the season before and showed signs of major positive change and development. For us, Hayward would be a major step in the right direction.
Charlotte hasn't seen a shooting guard like him since the days of Dell Curry and Glen Rice. We want Gordon here in Charlotte. He deserves to play here. Have you seen our new uniforms? Man, he would look good in teal and purple.
So I urge you, in these next couple of days, do not resign Gordon Hayward. Move on from him. He wants to play in Charlotte. The buzz is back and free agents are beginning to swarm.
Sincerely,
A Hornets fan