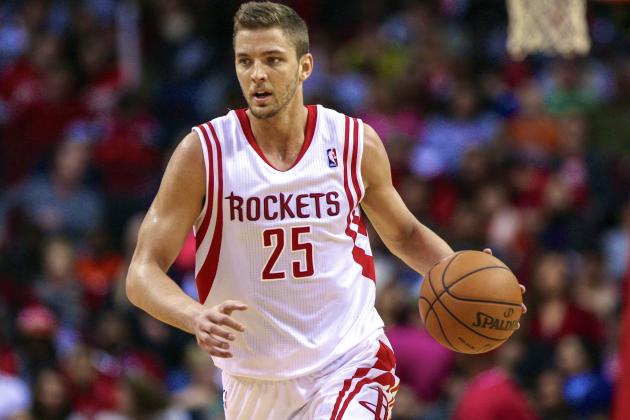 After a nearly perfect draft, the Hornets do still have some relatively major needs remaining. Fortunately, there are many players out there ready to fill those needs.
A two-way Small Forward would be ideal, not least because being able to bring a lockdown player like MKG off the bench would really hurt some opponents. The first name coming to mind is Chandler Parsons. The dude can score with the shot or the slash, and his defense, while not elite, is helped out by his relatively massive size for a 3. To add Parsons would almost certainly require the Rockets to sign Carmelo Anthony. If not, Gordon Hayward would be a really solid alternative, as long as he can rebound from his worst season yet. His interest level may be high too, as he'd have palpable talent to play around, which would allow him to play his game rather than be the go-to guy. Trevor Ariza would be a fine fit as well, considering he is the prototypical 3-and-D guy, but coming off of a statistically-outlying season, he may want too much money.
The next need that Charlotte has is the backup to Kemba. To me, the clear, and I mean crystal clear, best option is Isaiah Thomas. 20 and 6 with nobody to pass to besides Boogie is really impressive. Thomas would be a great spark plug to bring off the bench, but it just doesn't seem likely if either of the men mentioned above end up here, unless Cho/MJ can lure him in with less money than he truly deserves. A capable, affordable backup is Greivis Vasquez. He did well as the understudy of Kyle Lowry, and he's reliable. Jameer Nelson can shoot, which is intriguing, Kirk Hinrich is a seasoned vet, which would fit nicely here, and the fact that Ramon Sessions and D.J. Augustin both played here before certainly puts them into contention.
Of course, the enigma that is Lance Stephenson has to be discussed. A nearly elite defender who can also score the ball has to be appealing to both Cho and Clifford. He can fill it up, he can pass, and the man led the league in triple-doubles. When he wasn't blowing in his ear, he defended Lebron more than admirably. Two extra inches and an average personality would make him the perfect fit here. But the fact that the Hornets have and somehow don't seem fully interested in trading Henderson, plus a personal favorite of mine, P.J. Hairston, makes adding a two who seems a tad bit short to play the 3 seems like a stretch. If the brass and Cliff feels that Lance can play the 3 and that the idea of a small-ball backcourt seems appealing, the idea of Kemba, PJ and Lance is scary to many teams, mostly in the weak East.
And just because it wouldn't feel complete without actually exploring the possibility, Carmelo Anthony, as much as I think he's a one-way player who doesn't elevate his team nor does he win, would fit like a puzzle-piece here. This piece on Grantland makes the whole thing sound great, but the fact is that Melo, and LaLa, for that matter, want to be in a big city. Charlotte, where I live, is a fantastic city. A top 5 NBA city, in terms of living in,no questions about it. Problem is, it's not big. Melo will end up in New York, Chicago or Houston. Period. And all are sizably bigger.
So, how can Charlotte best position themselves for a very realistic Eastern Conference Finals run? Have this starting lineup: Kemba Walker, PJ, Parsons, Noah Vonleh, and Al Jefferson. Have Isaiah Thomas, Jeff Taylor, Michael Kidd-Gilchrist, Cody Zeller and either Bismack Biyombo or even Jordan Bachynski as the primary backups. Perhaps, and I mean perhaps, you resign McRoberts only if you can first get your wing and backup PG. But I really don't want to see him starting ahead of Vonleh.
All in all, the Hornets are looking great, and the bandwagon is getting full. Great court, pretty solid jerseys, and an awesome young roster with a bona fide star in Big Al, plus a weak Eastern Conference makes the Charlotte Hornets one of the top teams in all of basketball in the coming seasons.